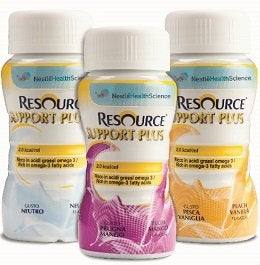 Resource Support Plus is a high protein, high-calorie supplement specifically formulated for the increased nutritional needs of cancer/oncology patients. It provides 250 kcal and 11.5 g of protein in a 125ml serving, and is enriched with EPA.
---
Kcal/ml 2.0
Calorie: 255Kcal
Volume: 125ml
Caloric Distribution (% of kcal)
Protein 18 %
Carbohydrates 43 %
Fat 39%
Protein Source: Milk Protein
Osmolarity (mOsm/l) 600
Omega-3 fatty acid 1.7 g/pack
Volume: 125ml
Protein 11.5g
Prebiotic dietary fiber (FOS, GOS) 3.1g
MCT oil of total fat: 50%
Cancer patients undergoing Chemotherapy/Radiotherapy
Dose-limiting toxicity resulted from Chemotherapy/Radiotherapy
Undernourished or at risk of malnutrition patients with increased caloric needs.
Milk Protein, Water, Glucose Syrup, Vegetable Oil (Rapeseed), Fibres (Galacto-Oligosaccharides (Contain Milk), Fructo-Oligosaccharides), Fish Oil, Sucrose, Minerals (Sodium Citrate, Potassium Citrate, Potassium Chloride, Magnesium Oxide, Sodium Chloride, Ferric Pyrophosphate, Zinc Sulphate, Copper Gluconate, Manganese Sulphate, Sodium Fluoride, Sodium Molybdate, Potassium Iodide, Chromium Chloride, Sodium Selenate), Emulsifier (E471), Flavourings (Peach, Vanilla), Vitamine (C, E, Niacin, Calcium Pantothenate, B6, B1, A, B2, Folic Acid, K1, Biotin, D3, B12), Antioxidants (E300, E306) And Acidity Regulator (E330). Gluten Free. Uht Sterilised. Packaged Under Protective Atmosphere.