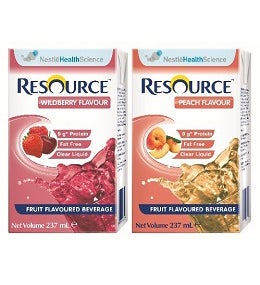 RESOURCE® Fruit Flavoured Beverage is an alternative to milk-based nutritional supplements. It provides calories and high quality protein fortified with essential vitamins and minerals. Lactose- and Fat-free. With a calorie count of 250, in each tetrapack, it is a juice-based liquid nutritional supplement suitable for cancer, stroke patients, anorexics, fat malabsorption etc.
---
kcal/ml 1.05
Caloric Distribution (% of kcal)
Protein 14 %
Carbohydrates 86 %
Fat 0 %
Protein Source Whey protein isolate
Osmolarity (mOsm/L) 630
Osmolality (mOsm/kg water) 770
Clear-liquid diets
Fat malabsorption
Anorexia
Oncology
Oral surgery
HIV/AIDS
Bowel Preparation
Geriatric nutrition
Pressure ulcers
Pre and post operative
Protein-Calorie malnutrition
Renal disease
Water, Sucrose, Maltodextrin, Whey Protein (Milk), Acidity Regulators (Phosphoric Acid E338, Citric Acid E330), Choline Bi-tartrate, L-Cysteine Hydrochloride, Colours (Carrot and Pumpkin Concentrates), Vitamins (C, E, Nicotinamide, Calcium Pantothenate, B6, B1, A, B2, Folic Acid, K1, Biotin, D3, B12), Minerals (Ferrous Sulphate, Zinc Sulphate, Manganese Sulphate, Copper Sulphate, Chromium Chloride, Sodium Molybdate, Sodium Selenate, Potassium Iodide). Natural and Natural Artificial Flavourings.