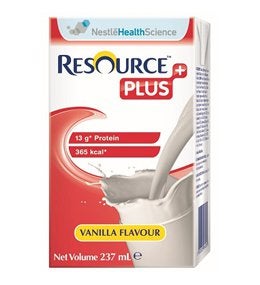 RESOURCE® Plus is a nutritionally-complete liquid formula, high in calorie, suitable for oral and tube feeding and with a glycaemic index of 43. A concentrated source of calories in a limited volume for increased energy requirements and/or restricted fluid volume..
---
kcal/ml 1.53
Caloric Distribution (% of kcal)
Protein 15 %
Carbohydrates 58 %
Fat 27 %
Protein Source sodium and calcium
caseinate, soy protein isolate
Osmolarity (mOsm/L) 601
Osmolality (mOsm/kg water) 791
Malnutrition
Decreased appetite
Involuntary weight loss
Anorexia
Geriatric nutrition
Oncology
Oral surgery
Protein Calorie malnutrition
Pressure ulcers
Water, Maltodextrin, Sucrose, Vegetable Oils (High Oleic Sunflower, Low Erucic Acid Rapeseed), Milk Proteins (Sodium and Calcium Caseinates), Soy Protein Isolates, Minerals (Calcium Phosphate, Sodium Citrate, Potassium Chloride, Potassium Citrate, Magnesium Oxide, Ferrous Sulphate, Zinc Sulphate, Manganese Sulphate, Copper Sulphate, Chromium Chloride, Sodium Molybdate, Sodium Selenate, Potassium Iodide). Acidity Regulators (Citric Acid E330, Potassium Hydroxide E525). Choline Bi-tartrate, Emulsifier (Soy Lecithin E322). Stabilizers (Cellulose E460, Carrageenan E407, Cellulose Gum E466), Vitamins (C, E, Calcium Pantothenate, Nicotinamide, B6, A, B1, B2, Folic Acid, K1, Biotin, D3, B12), Natural and Artificial Flavourings.